College Library
About the Library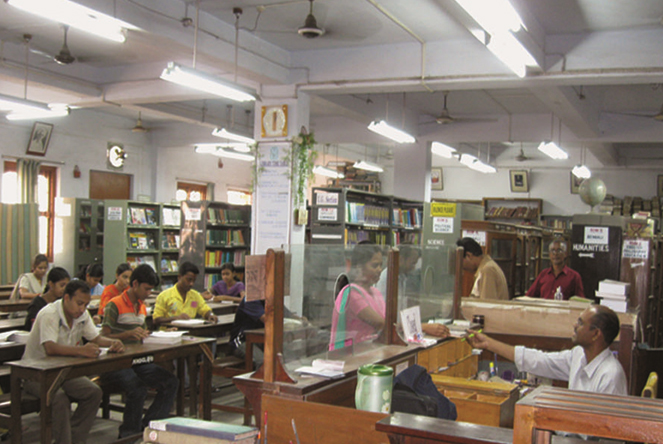 The inauguration of the College Central Library coincided with the birth of the institution, that is, it had been existing since 25th September, 1967. The date of first purchased and accessioned books was on 26th September, 1967. In 1986 the erstwhile Netaji Nagar College was trifurcated and Netaji Nagar Day College was formed. Generally, Library materials were also divided among three colleges. Smt. Anima Sengupta was the first librarian of this college. The then Library Room was on the 4th floor of the Main Building. The Library was then shifted to the 1st floor of New Building in June, 2002 with a much bigger accommodation. The system of transaction also changed from closed access to open access. UGC Network Resource Centre was established on 21st June 2004 by installing one computer and a librarian is the Co-ordinator of this centre. Besides undergraduate (UG) Section one postgraduate (M.Com.) section, which is self financing, was started in the academic year 2006-07.
NNDC Library covers 2200 sq. ft of carpet area spread on the first floor of New Building (NB) of the College. About 50% of the library premises is used as book stack room, 30% of it is used as users reading space and the remaining portion of the area is used for processing of documents, service to the users and UGC Network Resource Centre, from where the patrons used electronic documents.
The Library has a seating capacity of about 50 users in the reading space and excellent modern facilities. The library has a wide collection of about 22000 documents in the form of text books, bound volumes of journals, reference books, pamphlets, journals and magazines, non-book materials, government publications etc. The Library is endowed with 4 computers for UGC Network Resource Centre with free internet facilities to the users and 5 computers connected with Local Area Network (LAN) are used for creating data base of books and lending of books (Circulation work) to the members by using KOHA, an open source Library Management Software. Library acquires books, journals and magazines as per recommendation of the Heads of all Departments and priority given to the users mainly students demand. Latest arrivals are displayed for two weeks in the display racks to acquaint the users about latest additions of the library. The library has been subscribing to N-LIST e- resources for colleges from Information Library Network (INFLIBNET), Ahmedabad since May 2011. Library has machine readable catalogue as well as manual card catalogue of old books. Closed Circuit Television (CCTV) installed in the library ensures better monitoring over the Library Premises.
The Central Library has its own website https://centrallibrarynndc.wordpress.com designed by Sri Kartik Chandra Kundu, Librarian, which contains links of e-books, e- journals, newspapers, etc. Quick link of all Universities in West Bengal and IGNOU. The syllabi and previous years' Question papers of the University of Calcutta are also available here.
STATUS OF LIBRARY HOLDINGS (as on 26.12.2022)
Sr. No.

Type of Materials

Number of volumes
(As per accession register)

1.

Text Books and Reference Books(UG)

21300

2.

Text Books and Reference Books(PG)

600

3.

Gift Documents

580

4.

Bound volumes of periodicals

230

5.

Journals and Magazines(including career Guidance)

12

6.

Non-book Materials

70

7.

Newspaper, Employment News & Karmakshetra

7

8.

Electronic Databases

2

9.

Braille Books for visually challenged users

29
The library remains open from 10-30 A.M. to 5-30 P.M. (time of lending books is from 11 A.M. to 4 P.M.) from Monday to Friday and from 10-30 A.M. to 2 P.M. (time of lending books is from 11 A.M. to 1 P.M.) on Saturday with open access facilities. The Library offers both Lending and Reading facilities including internet facilities of the UGC Network Resource Centre. Facility to access e-books and e-journals of leading world Libraries through internet connectivity is also available. Reading facilities are available during the entire period of working hours of the library. A student needs to procure a 'Non-transferable' library card to enjoy all the facilities offered by the well-equipped library. For delay in returning books, a late fine will be charged @ Re 1 per day after the due date.